US President Donald Trump and Democratic challenger Joe Biden will go head-to-head in three debates prior to the US election.
There is also one debate scheduled for their vice-presidential candidates, Mike Pence and Kamala Harris.
They are seen as being among the top political events to watch during the US election season.
The moderators for the four debates, which typically draw large TV audiences, have now been announced.
When are the Trump v Biden debates – and who are the moderators?
Fox News Sunday anchor Chris Wallace will host the first presidential debate on 29 September, in Cleveland.
Miami will be the host city for the second, a town-hall style debate on 15 October, moderated by C-SPAN's Steve Scully.
NBC's Kristen Welker will host the final presidential debate on 22 October in Nashville.
The sole vice-presidential debate, between Democrat Kamala Harris and Republican Mike Pence, will be in Salt Lake City, Utah on 7 October, moderated by USA Today Washington Bureau chief Susan Page.
All of the debates are scheduled to take place from 21:00-22:30ET (02:00-03:30GMT) with no commercial interruptions.
The US election will be held on 3 November.
Who is Chris Wallace?
The first debate will be divided into six segments of approximately 15 minutes each, the nonpartisan Commission on Presidential Debates (CPD) announced.
The topics will be selected by Mr Wallace, a long-time Fox News anchor known for his memorable TV interviews with Mr Trump, and will be announced one week before the debate.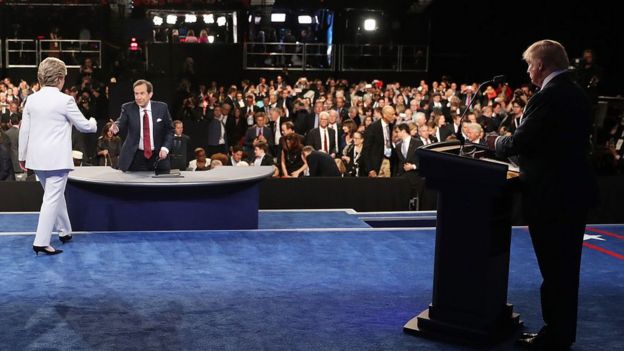 Each segment will open with a question and the candidates will get two minutes each to respond, the CPD said.
Mr Wallace, a registered Democrat, hosted the final 2016 debate between Mr Trump and Hillary Clinton and won widespread praise from commentators at the time for pressing each candidate on uncomfortable issues.
His performance was applauded by both sides of the political spectrum for his even-handed approach and for not letting either candidate digress too wildly.
He said at the time that he took moderating debates "very seriously… because this is helping millions of people decide who we're going to elect as the next president."
Mr Wallace has occasionally clashed with Mr Trump during his presidency, including in an interview with him last month in which he revealed he had also taken a cognitive ability test that Mr Trump touted, and that it was "not the hardest test".
Meanwhile, Mr Trump has dismissed Mr Wallace as a "Mike Wallace wannabe" – in a reference to Mr Wallace's father, one of the original members of CBS 60 Minutes – and described him as "even worse" than the presenters of NBC and CBS Sunday morning programmes, networks that Mr Trump is highly critical of.
Who are the other moderators?
Mr Scully is the political editor of C-SPAN and also host of the call-in show Washington Journal.
He served as the backup moderator for all the presidential debates back in 2016, and told Adweek earlier this month that one of the most important lessons he had learned from covering previous campaigns was "Don't believe the polls… remain sceptical".
Kristen Welker is NBC's White House correspondent, and is a co-anchor of its show Weekend Today, which she joined as an intern back in 1997.
She has described being a political reporter as "frankly remarkable", adding that "every minute of everything that we're covering is history-making".
USA Today's Susan Page has covered six White House administrations and 10 presidential elections, and written a biography of former first lady Barbara Bush.
"The debates are a crucial part of making our democracy work, and I am honoured to participate," she said after she was named as a moderator.
How did the Trump campaign respond?
The final list of moderators did not include any of those requested last month by Trump campaign aide and personal Trump lawyer Rudy Giuliani.
Trump campaign spokesman Tim Murtaugh said in a statement that "these are not the moderators we would have recommended" and alleged that "some can be identified as clear opponents of President Trump, meaning Joe Biden will actually have a teammate on stage most of the time".
This is not a view shared by the CPD, which has described the moderators as "experienced journalists" who bring "great professionalism to moderating". The CPD has also been clear that it makes its own decisions on moderators, no matter who campaigns recommend.
Mr Murtaugh also alluded to the fact that Mr Biden has been accused of avoiding Mr Wallace's interview requests, saying: "Chris Wallace's selection ensures that Biden will finally see him face-to-face after dodging his interview requests. That is, if Biden actually shows up."
How did the Biden campaign respond?
A spokesman for the Biden campaign, Andrew Bates, told reporters in a statement: "As Joe Biden has said for months – without farcical antics – he looks forward to participating in the debates set by the commission, regardless of who the independently chosen moderators are."
What are the rules of the other debates?
The second debate to take place will be the vice-presidential debate between Vice-President Mike Pence and California Senator Kamala Harris.
That debate will be divided into nine segments of about 10 minutes each. Like in the first debate, each section will begin with a question, with a candidate allowed two minutes to respond followed by debate.
The second presidential debate will take the form of a town meeting, and Floridians in the audience will pose questions of the candidates, who will be allowed two minutes to answer.
The moderator will be allowed an additional minute to facilitate more debate. The questioners will be uncommitted voters selected by the chief scientist of analytics firm Gallup.
The third presidential debate will have identical rules to the first.
Why do the presidential debates matter?
Debate viewership in terms of audience share has dropped in recent years, according to the Pew Research Center, but millions of voters still regularly tune in.
The first debate between Mr Trump and former Ms Clinton was a major draw in 2016, with a reported record 84 million viewers, according to data from Nielsen Media Research. Pew Research polling also indicates that voters find the debate performances are a factor in helping them choose their preferred candidate.